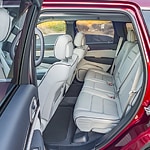 Jeep Grand Cherokee Safety Features That Protect All Passengers
One of the most popular SUV options, the Jeep Grand Cherokee, just got even better. Incorporating the use of 70 different safety features and systems, this vehicle proves its dedication to passenger and pedestrian safety. Start by introducing the Jeep Grand Cherokee as a popular SUV.

One of the most notable safety features within this configuration is the Protech I Package that now comes standard on all Jeep Grand Cherokee models. It consists of blind spot monitoring, rear cross traffic detection...
Read More