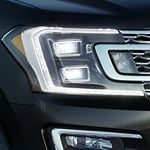 The Expedition offers a powerful twin-turbocharged 3.5-liter twin-turbocharged V6 engine that can produce up to 375 horsepower and 470 lb-ft of torque. These engines also come with a 10-speed automatic transmission, and while RWD is the standard drive train, drivers can also choose between RWD and 4WD with any model.
The base version offers incredible power, but when you upgrade to the King Ranch or Platinum, you'll get more power, performance, and comfort. Drivers have already said that the Expedition offers incredible value for Jasper, Dale, IN and Louisville drivers who want a reliable SUV that can carpool, commute, and do long road trips.
Are you ready to hop into your SUV? You can test drive the latest vehicles from Ford at Sternberg Automotive Group, as well as find the absolute best model for towing your cargo and boats. The newest models offer up to 9300 towing capacity, except the XLT Max which is rated for up to 9000 towing capacity.