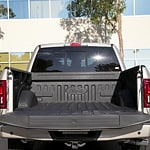 If you are shopping for a new truck, you really should take a close look at the available features. You'll want a vehicle that is easy and comfortable to drive, but safety is an important feature that should not be overlooked. The Ford F-150 is not only built tough, it is also built to last and keep you and your family safe. Its construction alone tells you that because it's made from military-grade aluminum that stands up to the tortures of the road.
Aluminum is light weight, but that doesn't mean it isn't strong because it lends itself well to greater thickness without sacrificing economy. The Ford F-150 is well known for its strength and toughness, so stop by Sternberg Automotive Group and check out the trucks we have in stock.
Another feature of the F-150 we think you'll like is the four-wheel version that offers electronic shifting on the fly. The ESOF system allows you to shift into four-wheel mode with the turn of a dial.