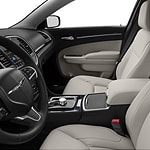 If you're looking for a ride to make your own, look no further than the full-sized luxury sedan that is the Chrysler 300 at Sternberg Automotive Group. Packed with options to make the interior suitable for you, this Chrysler model is one of the best in its class for personalization and high style.
Outfitted in available leather seating, this luxury vehicle is built for pleasure and comfort. All Chrysler 300 models allow you the ability to customize your seats so that they are the color, look and feel that makes you feel most confident. In addition to the customizable seating options, the Chrysler 300 also offers features such as the digital cluster display dash available in a striking, yet inviting, neon blue glow that allows for safer driving while your out on the road.
All in all, the all-new Chrysler 300 has interior charm that doesn't disappoint. With its customizable options and practical digital dash features, this Chrysler is vehicle you can get excited about.