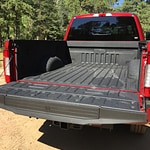 What is true strength? To us here at Sternberg Automotive Group, it's what you do with what you have. In the case of Ford's immensely popular Super Duty, there isn't much that you can't accomplish. A high-grade, aluminum-alloy body hides a power core configured for even the most intensive hauling and towing projects. Let's take a look inside.
Added cargo weight puts a little pressure on the commute, especially in the city where traffic pockets fill up quickly. That's why Adaptive Cruise Control was created - to give you control over what speed is appropriate and how much distance to keep between you and other moving vehicles. Furthermore, collision warning alerts increase attentiveness and prevent potential accidents by applying enhanced brake support action whenever possible.
As you can see, the Ford Super Duty refuses to compromise on safety. Our only suggestion is taking one out for a test drive yourself.