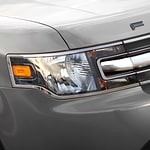 A crossover SUV represents brilliant automotive innovation. The crossover provides many traditional SUV benefits along with aspects of a smaller vehicle. The Ford Flex crossover offers outstanding performance and both cargo and passenger spaciousness. And then there's the technology. The Ford Flex comes with many incredible modern tech features.
Ford Co-Pilot 360 technology is available upon request, and it delivers excellent assistance to drivers looking for support. Active parking assistance and lane change warnings do cut down on the chances for mishaps. Nothing overcomes safe driving, and technological assistance helps even the most careful driver.
And how about the Intelligent All-Wheel Drive? The AWD presents improvements in traction and handling, two traits that do more than add comfort to driving. Safety could improve, as well. The AWD also works well in less-than-perfect weather conditions, another positive aspect.
How about visiting Sternberg Automotive Group and taking the Ford Flex on a test drive? See what the tech features contribute.